Call our sales team on 0800 049 6250
Samsung Galaxy Tab 3 10.1 Wi-Fi 16GB
The Samsung Galaxy Tab 3 10.1 is perfect for viewing, listening, creating and sharing your content. Games, internet and videos – it's perfect for it all.
10.1 high res screen and fast processor
Ideal for the whole family
The latest Android Jelly Bean software
Read full description
Top features
10.1" touchscreen
This is the size of your device's screen, in inches ("). Larger screens are often better for media viewing, while smaller screens mean devices can be made smaller and lighter for improved portability.
Storage Capacity
This is the maximum amount of storage space inside your device. This is used to store your multimedia content, such as videos and music, as well as your texts, apps and even documents.
micro SD up to 32GB
Your device accepts a specific kind of memory card, which can be used to enhance its internal memory. Adding a compatible card lets you store more music, videos apps & photos.
Wi-Fi
If your device is compatible with Wi-Fi then you can access the internet via wireless networks, and enjoy broadband-like browsing speeds. Signal strength varies, and you might need a network key.
Android Jelly Bean
Android Jelly Bean is the latest version of Google's operating system – it's faster, even more customisable and has more features than ever like offline voice typing and advanced notification bar.
1.2GHz Dual Core processor
The processor is the brain of your device. A single core processor can do one task at once, a dual core can do two, enabling it to carry out tasks faster, such as running multiple apps, more efficiently.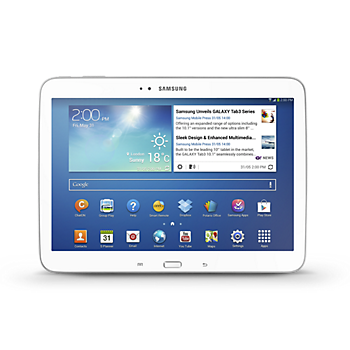 Tablet Accessories
Check out our great range of accessories to go with your tablet.
View Accessories
Fantastic Trade in prices
Get great prices for your old phone or tablet.
More info
The Samsung Galaxy Tab 3 10.1 tablet is perfect whether you're surfing the web at home or reading during the commute. Packed with enhanced content and made with an intuitive design, it's the ideal device for any member of the family.
Stunning 10.1" screen.
With a full sized tablet like the Tab 3 10.1, you'll have a device that's ideal for gaming, videos and creating emails. The extra space means the content you're looking at is super clear, and you can really treat it like a portable movie machine. If you're into surfing the net, a 10.1" screen is exactly what you need.
Powerful hardware – do anything, anywhere.
With the Samsung Galaxy Tab 3 10.1, you'll have a machine that has fast and powerful hardware. The dual core processors are excellent for utilising multiple apps at once. Want to check a map while listening to music and downloading a movie? That's what dual cores are designed for. They're also out and out powerful, letting you play high end 3D games anywhere you are.
1.3MP front facing cameras.
Tablets are excellent for video calling, using apps such as Skype. Samsung has equipped all the Tab 3 10.1 with a sharp front facing camera, so you can chat to friends and family from anywhere…and they can be anywhere too. It's all free, and is a great way to keep in touch with friends and family. There's also a rear facing 3MP camera, so if you want to take a snapshot, just point and shoot.
Control your home entertainment systems from your tablet.
Equipped with Smart Remote the Galaxy Tab 3 10.1 is able to connect to your other media devices to change volume, switch channel and more. It's also got a TV Out, letting you easily connect it to compatible televisions. This makes sharing your content, such as video and photos, quick, easy and hassle free.
The perfect family device.
With its top specs and powerful hardware, plus access to thousands of apps, the Tab 3 10.1 is a perfect gaming device for kids. But, with its home media control functions and fast internet access, it's great for parents too. Whether streaming movies to the family television or playing games at the highest resolution, the Galaxy Tab 3 10.1 fits into your home and can be enjoyed by the whole family.
Built-in apps and thousands more for free.
Samsung devices are known for the list of amazing and specially designed content that is preinstalled on them. The Galaxy Tab 3 comes with access to the Samsung Hub, which is the perfect place to find music, games, videos and learning materials. And, because it runs the Android Jelly Bean operating system, it's got access to the 850,000 apps in the Google Play™ Store. Here there are a huge collection of apps from games to feature enhancers, most for free. There are also movies, books, songs and magazines to download straight to your tablet.
If you're looking for a tablet with a large, sharp screen, access to loads of content and that'll be perfect for the whole family, the Samsung Galaxy Tab 3 10.1 is perfect.
Your device, in safe hands
Geek Squad technology insurance includes the tools you need to make the most of your device. We can support and fix your smartphone, tablet or computer. If it ever breaks, we'll be here to help 24/7. No claim too complex, no job too small.
Our best plan for your device:
| | | |
| --- | --- | --- |
| | + | |
Samsung Galaxy Tab 3 10.1 Wi-Fi 16GB

with Insurance & Tech Support - Tablet Complete

£15.99 per month

Full terms & conditions here
Pay as you go customers
Cover for accidental damage, theft and loss
Cover for liquid damage
Cover for unauthorised use
24/7 phone Tech Support from our Agents
In-store Tech Support from our Agents
Cover for up to £300 of Carphone Warehouse phone accessories
Next working day phone replacement on claim acceptance
Insurance underwritten by Aviva
Security software for your smartphone.*
Find out more about Geek Squad Mobile Insurance
You are able to upgrade your Tech Support cover to include all devices in your household for a small additional monthly fee.
*Subject to device compatability.
Help choosing your tablet
Opening times:
Monday - Friday:

8am - 9 pm

Saturday:

9am - 6pm

Sunday:

11am - 5pm

Bank holidays:

10am - 5pm
Call costs
You may be charged for calling this number, depending on your call plan. Your mobile phone network or fixed line provider will have details of which numbers are free for you to call. Call us on 0800 049 6250 Monday - Sunday. Costs of calls from networks may vary and calls from mobiles may cost significantly more.
What our customers say