Call our sales team on 0800 049 6250
Samsung Galaxy Note Pro 12.2 Wi-Fi 32GB
The Samsung Galaxy Note PRO 12.2 is a great tablet for watching movies and the incredibly useful S Pen stylus makes it great for notes, drawing and more
Read full description
Top features
Wi-Fi
If your device is compatible with Wi-Fi then you can access the internet via wireless networks, and enjoy broadband-like browsing speeds. Signal strength varies, and you might need a network key.
Octa-Core processor
The type of processor that's in your device. Some processors have dual or quad cores, and may be better for certain tasks. If you have a specific need, check the strong points of your device's processor.
S Pen
S Pen and S Note
The S Pen is a stylus that lets you write, draw and label on your device. S Note is the software that enables you to make notes from any screen.
8MP back facing camera
This is the quality of your device's camera in megapixels (MP). Generally speaking, cameras with more megapixels produce sharper images which can be enlarged or zoomed in on with less loss in detail.
MicroSD card up to 64GB
Your device accepts a specific kind of memory card, which can be used to enhance its internal memory. Adding a compatible card lets you store more music, videos apps & photos.
Android 4.4 (KitKat)
The operating system will manage the applications, programs and hardware.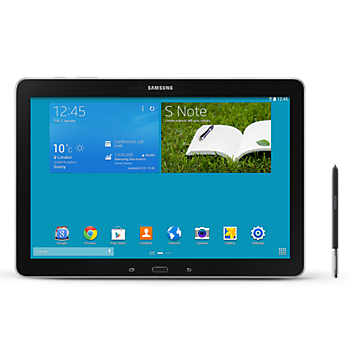 Tablet Accessories
Check out our great range of accessories to go with your tablet.
View Accessories
Fantastic Trade in prices
Get great prices for your old phone or tablet.
More info
The Samsung Galaxy Note PRO 12.2 is easy to carry around, but still comes with one of the largest and best screens we've ever seen on a tablet. It's perfect for watching movies or getting a bit of work done away from the office.
Get work done as if it was a PC
The Note PRO is as easy to work on as a PC, but as easy to carry as a tablet. You can open up all your documents because Hancom Office is preinstalled. It supports word processing, spread sheets and presentation tools. You can even open, edit and save files that are stored on your PC straight from your tablet. That's possible with Remote PC, a simple app that connects your PC to your tablet from anywhere.
Crystal clear screen
That huge screen on the Samsung Galaxy Note PRO 12.2 is just what you need for watching movies or checking out photos. The resolution of 2560x1600 pixels is sharper than full HD, so the detail is amazing. And don't worry, the colours are something special too.
Handwrite notes or draw right on your tablet
With the S Pen stylus, you're able to literally handwrite notes or sketch down your ideas. As a note taking machine, there's nothing better. You can write down phone numbers or addresses and the Note Pro 12.2 will save them for you in your phone book at the click of a button.
Fast enough for anything you want
You'll have all the power for games or video streaming with the Samsung Galaxy Note PRO 12.2. It's powered by a 1.9GHz octa core processor that'll give you great performance, ideal for HD movies and top apps and games. And with 3GB RAM, running music apps and downloading movies at the same time is a breeze. You can even split the screen into quarters and have an app running in each part of the screen, ideal for movie watching and email writing.
Uniquely secure
The Samsung Galaxy Note PRO 12.2 has extra security with Samsung's KNOX security app. It lets you protect a part of your tablet with a second password. This area is perfect to securely store private files, messages, contacts, apps or anything else.
More customisation and 1 million apps
You get faster web browsing, more customisation and simpler menus thanks to the powerful Android 4.4 KitKat that runs the Note Pro 12.2. You'll also get access to over 1 million apps so you can stay entertained all day.
The Samsung Galaxy Note PRO 12.2 is excellent for movies and note taking, and you'll be using it for hours at home or at work.
Your device, in safe hands
Geek Squad technology insurance includes the tools you need to make the most of your device. We can support and fix your smartphone, tablet or computer. If it ever breaks, we'll be here to help 24/7. No claim too complex, no job too small.
Our best plan for your device:
| | | |
| --- | --- | --- |
| | + | |
Samsung Galaxy Note Pro 12.2 Wi-Fi 32GB

with Insurance & Tech Support - Tablet Complete

£15.99 per month

Full terms & conditions here
Pay as you go customers
Cover for accidental damage, theft and loss
Cover for liquid damage
Cover for unauthorised use
24/7 phone Tech Support from our Agents
In-store Tech Support from our Agents
Cover for up to £300 of Carphone Warehouse phone accessories
Next working day phone replacement on claim acceptance
Insurance underwritten by Aviva
Security software for your smartphone.*
Find out more about Geek Squad Mobile Insurance
You are able to upgrade your Tech Support cover to include all devices in your household for a small additional monthly fee.
*Subject to device compatability.
Help choosing your tablet
Opening times:
Monday - Friday:

8am - 9 pm

Saturday:

9am - 6pm

Sunday:

11am - 5pm

Bank holidays:

10am - 5pm
Call costs
You may be charged for calling this number, depending on your call plan. Your mobile phone network or fixed line provider will have details of which numbers are free for you to call. Call us on 0800 049 6250 Monday - Sunday. Costs of calls from networks may vary and calls from mobiles may cost significantly more.
What our customers say