Call our sales team on 0800 049 6250
Samsung Galaxy Note 10.1 2014 Edition
The Samsung Galaxy 10.1 Note 2014 Edition is the best tablet for work and play on the market. You can open multiple apps on screen at once, and the new S Pen stylus give you loads of extra features.
Read full description
Top features
Wi-Fi
If your device is compatible with Wi-Fi then you can access the internet via wireless networks, and enjoy broadband-like browsing speeds. Signal strength varies, and you might need a network key.
Storage Capacity
This is the maximum amount of storage space inside your device. This is used to store your multimedia content, such as videos and music, as well as your texts, apps and even documents.
S Pen
S Pen and S Note
The S Pen is a stylus that lets you write, draw and label on your device. S Note is the software that enables you to make notes from any screen.
Multitasking
Run multiple apps and switch between them instantly, without sacrificing performance or battery life.
MicroSD card up to 64GB
Your device accepts a specific kind of memory card, which can be used to enhance its internal memory. Adding a compatible card lets you store more music, videos apps & photos.
Android OS v4.3 (Jelly Bean)
Android Jelly Bean is the latest version of Google's operating system – it's faster, even more customisable and has more features than ever like offline voice typing and advanced notification bar.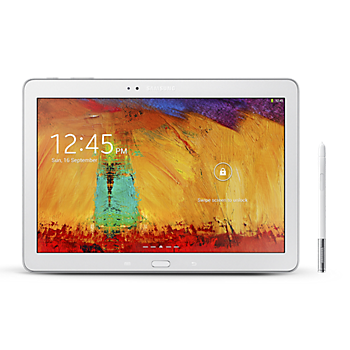 Tablet Accessories
Check out our great range of accessories to go with your tablet.
View Accessories
Fantastic Trade in prices
Get great prices for your old phone or tablet.
More info
With its leather-look back and sleek design, the Samsung Galaxy Note 10.1 2014 Edition 2014 Edition is one of the most stylish and powerful tablets you can own. Whether you want a tablet for entertainment or work, it's excellent.
Easy multitasking
The Samsung Galaxy Note 10.1 2014 Edition 2014 Edition is designed to make it easy to use multiple apps at once. The large 10.1" screen has lots of space, and the Multi Window feature lets you open apps in their own windows. Move them around to make it easy to watch a movie while emailing, and much more.
Stunning screen
Talking of movies, the screen on the Galaxy Samsung Galaxy Note 10.1 2014 Edition is superb. The extremely high resolution of the display shows every little detail of HD movies and hi-res photos. It's also been specially designed to give the most true to life colours.
A new improved S Pen stylus
The new S Pen isn't just more comfortable, it has new features too. As soon as you pull the S Pen out of the Samsung Galaxy Note's body, the Air Command window pops up, giving you instant access to S Pen apps. There's Action Memo, an app that lets you handwrite Samsung Galaxy Notes and automatically turn them into text, or save phone numbers into your phonebook. Then there's Pen Window. Draw a square anywhere on the screen and choose which app you want to appear in it.
Privacy included
Samsung KNOX™ for Consumer is preinstalled on the Samsung Galaxy Note 10.1 2014 Edition and is designed to keep anything you want safe and secure. It creates an area in the tablet for you to store photos, files and apps in. Everything in this secure area is then practically impossible to access by anyone but you.
Scrapbooker
This Samsung-only app is a virtual scrapbook. It lets you easily collect and organise a variety of content, including webpages, YouTube videos, videos on your tablet, all in one place. Tracking down your saved items is fast and easy, so you'll never lose anything digital again.
Same large screen, but a smaller, lighter body
The previous Galaxy Samsung Galaxy Note 10.1 2014 Edition tablet was great, but the 2014 Edition has hardware improvements. The processor has been supersized, and the body has been redesigned. The screen is still 10.1", but the space around its edge has been shrunk, making it smaller, lighter and easier to hold.
With its list of unique features and new stylish design, the Samsung Galaxy Samsung Galaxy Note 10.1 2014 Edition 2014 Edition is the perfect tablet for fun or business.
Your device, in safe hands
Geek Squad technology insurance includes the tools you need to make the most of your device. We can support and fix your smartphone, tablet or computer. If it ever breaks, we'll be here to help 24/7. No claim too complex, no job too small.
Our best plan for your device:
| | | |
| --- | --- | --- |
| | + | |
Samsung Galaxy Note 10.1 2014 Edition

with Insurance & Tech Support - Tablet Complete

£10.99 per month

Full terms & conditions here
Pay as you go customers
Cover for accidental damage, theft and loss
Cover for liquid damage
Cover for unauthorised use
24/7 phone Tech Support from our Agents
In-store Tech Support from our Agents
Cover for up to £300 of Carphone Warehouse phone accessories
Next working day phone replacement on claim acceptance
Insurance underwritten by Aviva
Security software for your smartphone.*
Find out more about Geek Squad Mobile Insurance
You are able to upgrade your Tech Support cover to include all devices in your household for a small additional monthly fee.
*Subject to device compatability.
Help choosing your tablet
Opening times:
Monday - Friday:

8am - 9 pm

Saturday:

9am - 6pm

Sunday:

11am - 5pm

Bank holidays:

10am - 5pm
Call costs
You may be charged for calling this number, depending on your call plan. Your mobile phone network or fixed line provider will have details of which numbers are free for you to call. Call us on 0800 049 6250 Monday - Sunday. Costs of calls from networks may vary and calls from mobiles may cost significantly more.
What our customers say