Call our sales team on 0800 049 6250
Samsung Galaxy Tab S 8.4" 4G 16GB
The Samsung Galaxy Tab S 8.4 4G is a super secure tablet with a built in fingerprint scanner.
Read full description
Top features
8MP rear facing camera
This is the quality of your device's camera in megapixels (MP). Generally speaking, cameras with more megapixels produce sharper images which can be enlarged or zoomed in on with less loss in detail.
micro SD up to 128GB
Your device accepts a specific kind of memory card, which can be used to enhance its internal memory. Adding a compatible card lets you store more music, videos apps & photos.
8.4" Super AMOLED screen
This is the size of your device's screen, in inches ("). Larger screens are often better for media viewing, while smaller screens mean devices can be made smaller and lighter for improved portability.
Quad Core Processor
Where a single core processor can deal with one task at a time, a quad core can work on four. Your device is smoother & far better at multitasking, so you can have more apps open at once without slowdown.
Android KitKat
The name of the operating system that runs on your device. This is the software that controls the functions of your device, such as Android, iOS and Windows.
4G
With 4G, internet speeds are five times faster than with the older 3G connection.
Find out more and compare the 4G phones and 4G deals in our 4G comparison hub.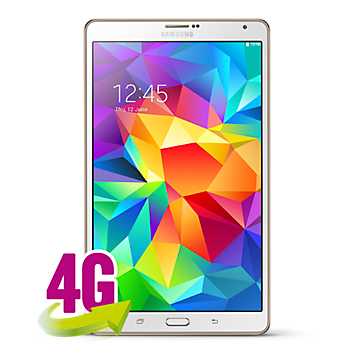 Tablet Accessories
Check out our great range of accessories to go with your tablet.
View Accessories
Fantastic Trade in prices
Get great prices for your old phone or tablet.
More info
With its incredible screen, extra long battery life and super handy fingerprint scanner, the Samsung Galaxy Tab S 8.4 is the most impressive mini tablet you can buy. And when you buy a data SIM, it'll connect to super fast 4G internet.
Unbelievable colours from the 8.4" screen
When it comes to screen quality, the Tab S is in a league of its own. The colours and brightness are brilliant, and will make watching movies and looking at photos a real joy. It's perfect for looking at practically anything.
Built in fingerprint scanner for security and practicality
When it comes to security, it's hard to beat a fingerprint scanner. With the Samsung Galaxy Tab S 8.4 there's a fingerprint scanner built into the home button. Once you've set it up, only you can unlock the tablet. It's super easy, just slide your finger down the bottom of the screen and button. There's also a special feature that lets you lock files and documents behind a fingerprint password, giving maximum security.
Ultra power saving mode gives epic battery life
Ultra power saving mode is taken straight from the brilliant Samsung Galaxy S5. It means your battery will last and last, giving you time to send that vital email or check last minute directions. It works by turning the screen black and white and shutting down non-essential apps so power is only used for the things you really need it for.
Split screen multitasking for doing two things at once
The Tab S lets you open two apps on the screen at once. It means you can watch videos at the same time as writing an email, or anything else you want. Just drag your finger inwards from the edge of the screen and choose the apps you want to use.
Use your phone on your tablet!
There's a fantastic app on the Samsung Galaxy Tab S 8.4 called SideSync. Install it on your Samsung smartphone and you can control your phone from your tablet. Turn the app on and a life size version of your phone appears on the screen of your tablet, complete with all your photos and apps. Then just touch the screen to use your mobile, including making calls and sending texts.
A brilliant tablet for getting work done
The Tab S comes loaded with great apps for helping you get some work done. There's Cisco WebEx Meetings, which is brilliant for video conferences. There's a free one year subscription to the Bloomber Businessweek magazine, and a special Kindle from Samsung app that comes with free books. With Hancom Office Hshow 2014, you can open and edit Word, Spreadsheet and PowerPoint documents, and there's much more just waiting to be discovered.
Your device, in safe hands
Geek Squad technology insurance includes the tools you need to make the most of your device. We can support and fix your smartphone, tablet or computer. If it ever breaks, we'll be here to help 24/7. No claim too complex, no job too small.
Our best plan for your device:
| | | |
| --- | --- | --- |
| | + | |
Samsung Galaxy Tab S 8.4" 4G 16GB

with Insurance & Tech Support - Tablet Complete

£11.99 per month

Full terms & conditions here
Pay as you go customers
Cover for accidental damage, theft and loss
Cover for liquid damage
Cover for unauthorised use
24/7 phone Tech Support from our Agents
In-store Tech Support from our Agents
Cover for up to £300 of Carphone Warehouse phone accessories
Next working day phone replacement on claim acceptance
Insurance underwritten by Aviva
Security software for your smartphone.*
Find out more about Geek Squad Mobile Insurance
You are able to upgrade your Tech Support cover to include all devices in your household for a small additional monthly fee.
*Subject to device compatability.
Help choosing your tablet
Opening times:
Monday - Friday:

8am - 9 pm

Saturday:

9am - 6pm

Sunday:

11am - 5pm

Bank holidays:

10am - 5pm
Call costs
You may be charged for calling this number, depending on your call plan. Your mobile phone network or fixed line provider will have details of which numbers are free for you to call. Call us on 0800 049 6250 Monday - Sunday. Costs of calls from networks may vary and calls from mobiles may cost significantly more.
What our customers say