Call our sales team on 0800 049 6250
Nokia Lumia 2520 Wi-Fi & 4G
There's no better tablet than the Nokia Lumia 2520 for work and play. It'll hook up with an Xbox for games, take excellent photos with the 6.7MP camera and it's ideal for social networking. And with the Windows RT 8.1, it'll run all your work files.
Read full description
Top features
Windows RT 8.1
Surface RT comes pre-installed with Office Home and Student 2013 RT, which includes versions of Word, PowerPoint, Excel and OneNote optimised for touch.
6.7MP Carl Zeiss camera
This is the quality of your device's camera in megapixels (MP). Generally speaking, cameras with more megapixels produce sharper images which can be enlarged or zoomed in on with less loss in detail.
Qualcomm® Snapdragon™ 800 Quad Core Processor
Where a single core processor can deal with one task at a time, a quad core can work on four. Your device is smoother & far better at multitasking, so you can have more apps open at once without slowdown.
2MP wide angle camera
Capture self portraits to use as your profile pics or share with friends. If your device supports video chats you can also use the front facing camera as a handy web cam, for face-to-face calls!
4G
With 4G, internet speeds are five times faster than with the older 3G connection.
Find out more and compare the 4G phones and 4G deals in our 4G comparison hub.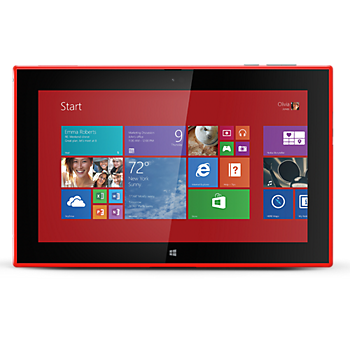 Tablet Accessories
Check out our great range of accessories to go with your tablet.
View Accessories
Fantastic Trade in prices
Get great prices for your old phone or tablet.
More info
The Nokia Lumia 2520 is beautiful to look at and to use. With a design and build quality second to none and super fast hardware, it's right up there with the best tablets around.
Phenomenal screen
The 10.1" screen on the Nokia Lumia 2520 is excellent. Bright, sharp and with superb colours, it's one of the most impressive screens on any tablet. It's ideal for HD movies, but because it's so good, anything you're looking at will look at its very best. If you want to use a tablet outside, remember the 2520's screen has exceptional brightness, but also reflects very little light. It's ideal for reading books or watching videos on a sunny day.
Boost your productivity
Microsoft Office and Microsoft Outlook are free and preinstalled as soon as you first turn on your Lumia 2520. You'll be able to create and edit Word, Excel and PowerPoint files as well as synch your email and calendars. And with Microsoft OneDrive, you can save your documents and pick up where you left off whenever you want.
Keep going on the move
The 2520 gives you longer battery life and faster internet, anywhere. It'll charge 80% of the battery in one hour, so if you're in a hurry, no problem. And with 4G connectivity, just pick up a 4G SIM to get super fast 4G internet.
Tablets can take great photos too!
High quality photos need high quality lenses, and the Nokia Lumia 2520 gives you both. The famous ZEISS lenses from the high end Lumia smartphone range make it to the tablet, alongside the excellent Nokia camera apps. The camera gives super sharp images too as it's a 6.7MP lens, and is great in low light.
Brilliant Nokia-only apps included
Nokia is a brilliant app maker, and you'll get free apps with your tablet. There's free international maps and voice-guided navigation with HERE Maps. If you're into music, there's Nokia Music, which gives you completely free and unlimited songs. And to organise your photos in a beautiful album that sorts them according to location, there's Nokia Storyteller.
Solid, sleek and beautiful design
With its unique design and excellent build quality, the 2520 is hardy but stylish. The polymer shell is glossy and comes in loads of colours, so you're free to pick the one that suits you most. The smooth shape is comfortable, and because it's made by Nokia, it'll take the knocks and bumps of daily life without a problem.


Your device, in safe hands
Geek Squad technology insurance includes the tools you need to make the most of your device. We can support and fix your smartphone, tablet or computer. If it ever breaks, we'll be here to help 24/7. No claim too complex, no job too small.
Our best plan for your device:
| | | |
| --- | --- | --- |
| | + | |
Nokia Lumia 2520 Wi-Fi & 4G

with Insurance & Tech Support - Tablet Complete

£13.49 per month

Full terms & conditions here
Pay as you go customers
Cover for accidental damage, theft and loss
Cover for liquid damage
Cover for unauthorised use
24/7 phone Tech Support from our Agents
In-store Tech Support from our Agents
Cover for up to £300 of Carphone Warehouse phone accessories
Next working day phone replacement on claim acceptance
Insurance underwritten by Aviva
Security software for your smartphone.*
Find out more about Geek Squad Mobile Insurance
You are able to upgrade your Tech Support cover to include all devices in your household for a small additional monthly fee.
*Subject to device compatability.
Help choosing your tablet
Opening times:
Monday - Friday:

8am - 9 pm

Saturday:

9am - 6pm

Sunday:

11am - 5pm

Bank holidays:

10am - 5pm
Call costs
You may be charged for calling this number, depending on your call plan. Your mobile phone network or fixed line provider will have details of which numbers are free for you to call. Call us on 0800 049 6250 Monday - Sunday. Costs of calls from networks may vary and calls from mobiles may cost significantly more.
What our customers say