Call our sales team on 0800 049 6250
From touch to type, office to living room, you can see more, share more and do more with Microsoft Surface.
Built-in kickstand for easy use anywhere
Quad core NVIDIA Tegra 3 processor, 2GB RAM
Windows RT with pre-installed Microsoft Office Home and Student RT 2013
Read full description
Top features
10.6" Multi-touch screen
This is the size of your device's screen, in inches ("). Larger screens are often better for media viewing, while smaller screens mean devices can be made smaller and lighter for improved portability.
Quad Core Processor
Where a single core processor can deal with one task at a time, a quad core can work on four. Your device is smoother & far better at multitasking, so you can have more apps open at once without slowdown.
HDMI output
A port that will allow you to connect your device up to a high definition TV.
MicroSDXC Card Slot
Expand the built-in memory by purchasing an optional memory card.
Windows RT
Surface RT comes pre-installed with Office Home and Student 2013 RT, which includes versions of Word, PowerPoint, Excel and OneNote optimised for touch.
Microsoft Office Mobile
Get down to business with Office Hub and view or edit documents on the move.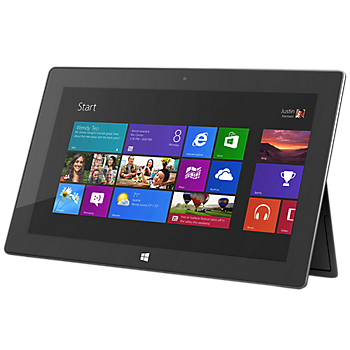 Tablet Accessories
Check out our great range of accessories to go with your tablet.
View Accessories
Fantastic Trade in prices
Get great prices for your old phone or tablet.
More info
The Microsoft Surface is a great tablet for everything. With powerful software taken from a desktop computer, you'll have the freedom to work and play with ease using apps from Microsoft Office to Angry Birds.
Sleek. Slim
Ultra-thin and light, Surface RT is the on-the-go tablet. The Surface RT is coated in an exclusive magnesium alloy delivering a high-quality fit and finish - it's a revolution of design. It doesn't just look good, it's actually stronger and lighter than aluminium and is resistant to fingerprints, so it won't get covered in smears in a hurry.
Kick. Start.
Kick back or lean in. The integrated Kickstand enables hands-free work or play. When closed, it simply disappears back into the VaporMg casing. It works great with Microsoft's Touch Cover – a cover you can type on– turning your tablet into a slim laptop.
Connect. Share
With a full sized USB port, microSD card slot and HD video out port, the Surface RT allows you to bring your entire media collection wherever you go. It's an impressive fete given how slim the tablet is and has some major advantages. The full size USB port will make it easy to sync to other devices while the microSD card slot will mean you can always add up to 64GB of extra storage to your Surface RT. The HD video out port will allow you to watch movies, show off your photos, or present your work on the big screen.
Serious. Fun
The power of Windows, the productivity of Office and the joy of Xbox all come together on the Surface. With the Windows RT operating system it means you get some of the awesome features that you'd get on a desktop computer. It even comes with Microsoft Office Home and Student pre-installed so you can use Word and Excel straight away.
Play. More.
Check out apps like Cut the Rope, eBay and Shazam in the Windows Store. From shopping to dining, from working to gaming, find the best apps to help you get the most from Surface. Be sure to check back often for new apps.
Always. Connected.
With Connected Standby, you are always connected even when you Surface is asleep 211. See social networking posts, emails and text messages on the lock screen and keep up with all the people you care about most.
1. Wi-Fi required; ISP fees apply.
Your device, in safe hands
Geek Squad technology insurance includes the tools you need to make the most of your device. We can support and fix your smartphone, tablet or computer. If it ever breaks, we'll be here to help 24/7. No claim too complex, no job too small.
Help choosing your tablet
Opening times:
Monday - Friday:

8am - 9 pm

Saturday:

9am - 6pm

Sunday:

11am - 5pm

Bank holidays:

10am - 5pm
Call costs
You may be charged for calling this number, depending on your call plan. Your mobile phone network or fixed line provider will have details of which numbers are free for you to call. Call us on 0800 049 6250 Monday - Sunday. Costs of calls from networks may vary and calls from mobiles may cost significantly more.
What our customers say