Call our sales team on 0800 049 6250
The Binatone HomeSurf 742 is a great value tablet that's ideal for social networking, checking the news playing over 1 million apps and games from the Google Play Store.
Google play store
Built in web cam for video calls
Powered by Android 4.2.2 Jelly Bean
Read full description
Top features
Wi-Fi
If your device is compatible with Wi-Fi then you can access the internet via wireless networks, and enjoy broadband-like browsing speeds. Signal strength varies, and you might need a network key.
Compatible with MicroSD up to 32GB
Your device accepts a specific kind of memory card, which can be used to enhance its internal memory. Adding a compatible card lets you store more music, videos apps & photos.
7 touchscreen
This is the size of your device's screen, in inches ("). Larger screens are often better for media viewing, while smaller screens mean devices can be made smaller and lighter for improved portability.
Android Jelly Bean
Android Jelly Bean is the latest version of Google's operating system – it's faster, even more customisable and has more features than ever like offline voice typing and advanced notification bar.
Dual Core Processor
Faster performance, plus better web browsing and gaming.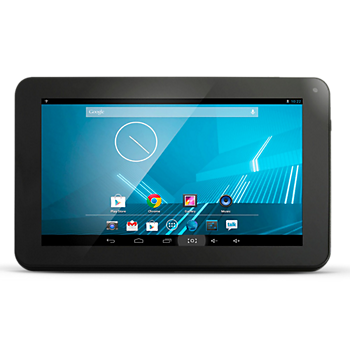 Tablet Accessories
Check out our great range of accessories to go with your tablet.
View Accessories
Fantastic Trade in prices
Get great prices for your old phone or tablet.
More info
The Binatone HomeSurf 742 lets you enjoy the full tablet experience. Equipped with the powerful Android 4.2.2 Jelly Bean and a fast processor, it's the perfect device for using the 1 million+ apps available on the Google Play Store.
Ideal for gaming, web browsing and more.
The Binatone HomeSurf 742 has a dual core processor behind its smooth casing that gives you all the power you need to play games, surf the net or watch videos. The processor is capable of fast multitasking so you can quickly switch between web browsing, emails and videos.
Perfectly portable.
As the name suggests, the Binatone HomeSurf 742 has a 7" display, making it the perfect size to carry with you while still being able to see and use the screen for entertainment. Screen quality is pretty impressive too and will allow you to enjoy your visual content.
Turn your tablet into a Smart TV.
The Binatone HomeSurf 742 is perfect for enjoying TV anywhere. Either download movies from the Google Play Store, or stream content directly to your tablet using BBC iPlayer or Netflix. With fast Wi-Fi internet you won't get any lag, and the portable size of the Binatone HomeSurf 742 makes it perfect for lazing around the house.
A personal touch with video calling.
The Binatone HomeSurf 742 has three key features that make it perfect for video calling, an in-built mic, a loudspeaker and, most importantly, a front facing camera. Hook it up to your Wi-Fi, download Skype and you can talk to and see friends and family anywhere in the world as if they were stood right next to you.
Never forget a thing.
With more than 1 million apps available from the Google Play Store, it's good to know that the Binatone HomeSurf 742 can have its memory expanded to accommodate everything you'll want to download. You're able to add a 32GB microSD card to the tablet's 8GB internal storage, plenty to store thousands of apps, games, songs, videos and pictures.
The Android experience.
To ensure everything runs smoothly, the Binatone HomeSurf 742 has been given the powerful Android 4.2.2 Jelly Bean. This software lets you make the most of the tablet's processor, running reliably and efficiently while supporting 1 million+ apps. Jelly Bean brings some cool features like an enhanced frame rate for smoother moving images and facial recognition for added security.
So if you're looking for a portable and stylish tablet that can keep up with you then the Binatone HomeSurf 742 can do it all without breaking the bank.
Your device, in safe hands
Geek Squad technology insurance includes the tools you need to make the most of your device. We can support and fix your smartphone, tablet or computer. If it ever breaks, we'll be here to help 24/7. No claim too complex, no job too small.
Our best plan for your device:
| | | |
| --- | --- | --- |
| | + | |
Binatone HomeSurf 742

with Insurance & Tech Support - Tablet Complete

£34.99 (Annual payment)

Full terms & conditions here
Pay as you go customers
Cover for accidental damage, theft and loss
Cover for liquid damage
Cover for unauthorised use
24/7 phone Tech Support from our Agents
In-store Tech Support from our Agents
Cover for up to £300 of Carphone Warehouse phone accessories
Next working day phone replacement on claim acceptance
Insurance underwritten by Aviva
Security software for your smartphone.*
Find out more about Geek Squad Mobile Insurance
You are able to upgrade your Tech Support cover to include all devices in your household for a small additional monthly fee.
*Subject to device compatability.
Help choosing your tablet
Opening times:
Monday - Friday:

8am - 9 pm

Saturday:

9am - 6pm

Sunday:

11am - 5pm

Bank holidays:

10am - 5pm
Call costs
You may be charged for calling this number, depending on your call plan. Your mobile phone network or fixed line provider will have details of which numbers are free for you to call. Call us on 0800 049 6250 Monday - Sunday. Costs of calls from networks may vary and calls from mobiles may cost significantly more.
What our customers say