Call our sales team on 0800 049 6250
Archos 80 Titanium Wi-Fi 16GB
The ARCHOS 80 Titanium is a powerful tablet with a stunning aluminium design and plenty of power under the hood.
Perfectly sized, super crisp 8" display
Cameras front and back, plus Wi-Fi internet
Powered by the latest Android 4.1
Read full description
Top features
1.6GHz dual core processor
The processor is the brain of your device. A single core processor can do one task at once, a dual core can do two, enabling it to carry out tasks faster, such as running multiple apps, more efficiently.
8" HD IPS display
This is the size of your device's screen, in inches ("). Larger screens are often better for media viewing, while smaller screens mean devices can be made smaller and lighter for improved portability.
Micro SD card up to 64GB
Your device accepts a specific kind of memory card, which can be used to enhance its internal memory. Adding a compatible card lets you store more music, videos apps & photos.
0.3 MP front facing camera
Capture self portraits to use as your profile pics or share with friends. If your device supports video chats you can also use the front facing camera as a handy web cam, for face-to-face calls!
Android Jelly Bean
Android Jelly Bean is the latest version of Google's operating system – it's faster, even more customisable and has more features than ever like offline voice typing and advanced notification bar.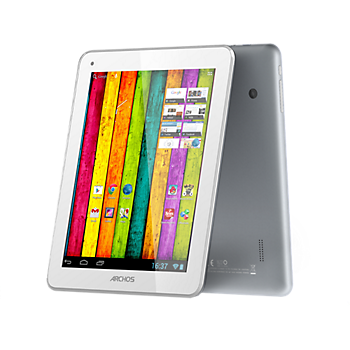 Tablet Accessories
Check out our great range of accessories to go with your tablet.
View Accessories
Fantastic Trade in prices
Get great prices for your old phone or tablet.
More info
The ARCHOS 80 Titanium is equipped with the latest mobile technology. Slim and light with an elegant aluminium finish, the ARCHOS 80 Titanium is perfectly designed to read e-books or e-magazines, power through apps and surf the net.
Sleek aluminium finish and portability.
The reverse of the ARCHOS 80 Titanium is made from aluminium, giving it a super premium finish. It keeps the tablet cool, and offers extra protection against the knocks and bumps of daily life. Aluminium also keeps weight down, meaning the ARCHOS 80 Titanium tips the scales at just 440g, and is only 9.9mm thick. It's the perfect tablet for use on the move.
8" screen is perfect for HD content.
That's not all that keeps the ARCHOS 80 Titanium portable. The 8" touchscreen is large enough to enjoy media on, but smaller than a 10.1" display found on many tablets, keeping the body small and light. The screen's resolution is also high, an impressive 1024x768. This makes the screen super sharp, ideal for HD movies, photograph viewing and web browsing. Like your books? The portable size and sharp screen means the ARCHOS is the perfect tablet for reading eBooks too.
The power for apps, games and more.
The ARCHOS 80 Titanium has advanced insides too. The processor is a high powered 1.6GHz dual core chip, while the GPU (games processor unit, used to improve graphics) is a superb quad core variant. Combine these two bits of kit and the ARCHOS is the perfect games machine for realistic 3D models, physic effects and anything that needs to run at speed. It also means you can open loads of apps at once. Want to listen to music, reply to emails and be downloading a movie? No problem!

Cameras front and back.
Take snap shots of holidays or record a video of your best friend pulling a funny face with the camera on the back of your ARCHOS 80 Titanium. Sharing via email or uploading to Facebook™ takes just seconds. And if you want to chat face to face with family or friends, just download Skype for free and power up the front facing camera. Now they can see you, and if they've got a front facing camera…you can see them too.
All the apps you'll need.
We're in the era of apps, and with the ARCHOS 80 Titanium you'll have access to the Google Play™ Store. Inside there are over 700,000 apps and games, letting you customise your tablet as much as you want. You can get new features too, turning your tablet into a true multi purpose device. And that's not all. The Play™ Store also has thousands of videos, songs and books, so there's entertainment whenever you need it.

Get on the net.
Connecting to the internet is easy – the ARCHOS 80 Titanium can access Wi-Fi internet wherever you find it. That means at home, in the office, at the coffee shop, or round a friend's. When you're downloading songs or other media content, you might want some more space. That's why the ARCHOS is compatible with microSD and SDHC cards, with capacity up to 64GB – plenty of space for a huge collection.
If you're looking for a tablet that's portable, offers a great entertainment experience, has loads of power and speed and has a premium build, the ARCHOS 80 Titanium is worth checking out.
Your device, in safe hands
Geek Squad technology insurance includes the tools you need to make the most of your device. We can support and fix your smartphone, tablet or computer. If it ever breaks, we'll be here to help 24/7. No claim too complex, no job too small.
Help choosing your tablet
Opening times:
Monday - Friday:

8am - 9 pm

Saturday:

9am - 6pm

Sunday:

11am - 5pm

Bank holidays:

10am - 5pm
Call costs
You may be charged for calling this number, depending on your call plan. Your mobile phone network or fixed line provider will have details of which numbers are free for you to call. Call us on 0800 049 6250 Monday - Sunday. Costs of calls from networks may vary and calls from mobiles may cost significantly more.
What our customers say