The Consumer Electronics Show (CES) is over for another year. We saw thousands of new gadgets at this year's show, ranging from the exciting to the bizarre. But here's what we picked out as the best of CES 2014.
Sony makes a splash
If the powerful, top of the range smartphones are a bit too big for you but you want the power, Sony has a solution. The Xperia™ Z1 Compact is a small phone with the incredible power of the big Xperia™ Z1. That means the phone fits in the palm of your hand and still runs all your favourite apps and games quickly and smoothly.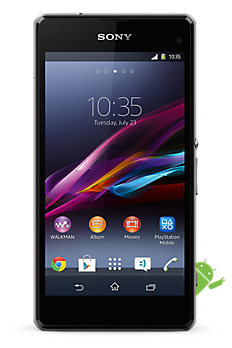 All that portable power will be useful, especially considering Sony's other revolutionary product. PlayStation Now is a service that will stream PlayStation games directly to smartphones and tablets. Sony said a huge selection of games from its back catalogue would be available later this year. So we could see everything from the original PlayStation's Final Fantasy 7 to Grand Theft Auto 5 for the PS3 coming to your smartphone.

And Sony didn't stop with transforming virtual gaming. The Sony tennis sensor should help improve your real world game too. It attaches to the bottom of your tennis racket and sends information wirelessly to your smartphone. You'll then be able to see how fast the ball was moving, how much spin you put on it and what sort of swing you took.
Samsung shows up in full force
Sony wasn't the only big name at CES. Samsung turned up with a whole new range of top spec tablets. The Galaxy TabPRO comes in three sizes, 8.4", 10.1" and 12.2", which have great screens for movies. And the new Galaxy NotePRO, which has a 12.2" screen and S Pen stylus, is perfect for business users thanks to S Pen features like handwriting recognition and extreme accuracy.
If unveiling four top new tablets wasn't enough, Samsung also showed off an entire smart home. Smart fridges could send us notifications if we're running low on milk. And if you're doing a load of washing while watching a movie, a smart washing machine could send a notification to a smart TV when the load's done. And, of course, everything would be controlled from your smartphone.
Wearable technology takes off
There was one big trend at CES 2014, wearable gadgets. Whether you want a simple wristband that tracks your workouts, or a virtual reality gaming headset, CES had something for everyone.
Sony was probably the biggest brand to unveil new wearable tech. The SmartBand works with the LifeLog app to track everything you do, including exercise, calls and entertainment. It means you get a complete diary of what you do to make it easier to relive experiences and plan for the future.


There was also a host of smartwatches, from the FiLip that's designed for kids, to the Neptune Pine that's essentially a smartphone that fits on your wrist. Our favourite, though, was the Qualcomm Toq. It works with a smartphone and has a unique power saving screen.