Call our sales team on 0870 087 0870
Samsung Galaxy Tab 2 10.1 Wi-Fi 16GB
The Samsung Galaxy Tab 2 10.1 is a tablet that can be used by all the family! Light and slim it's comfortable to use for anyone, & with a beautiful 10.1" touchscreen.
Beautiful 10.1" touchscreen
Runs the awesome Android 4.0 Ice Cream Sandwich
Powerful dual core processor
Read full description
Top features
Bluetooth
Bluetooth is a wireless technology that lets your device to send and receive media like pictures and songs, as well as connect to accessories like Bluetooth headsets for hands free calling.
Wi-Fi
If your device is compatible with Wi-Fi then you can access the internet via wireless networks, and enjoy broadband-like browsing speeds. Signal strength varies, and you might need a network key.
10.1" LCD Touchscreen
This is the size of your device's screen, in inches ("). Larger screens are often better for media viewing, while smaller screens mean devices can be made smaller and lighter for improved portability.
16GB Internal memory
The amount of internal memory free for you to use, in Gigabytes.
Android 4.0 Ice Cream Sandwich
The latest version of Android that's packed full of the newest features and security enhancements. There are new apps, a slicker interface, faster web browsing and more customisation.
Dual core processor
The processor is the brain of your device. A single core processor can do one task at once, a dual core can do two, enabling it to carry out tasks faster, such as running multiple apps, more efficiently.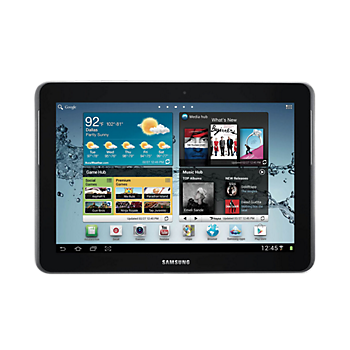 Tablet Accessories
Check out our great range of accessories to go with your tablet.
View Accessories
Fantastic Trade in prices
Get great prices for your old phone or tablet.
More info
The Samsung Galaxy Tab 2 10.1 is the perfect tablet for cruising the internet, enjoying apps or watching videos. With a 3MP camera you can also take snaps wherever you are, and share them on Facebook™ to show your friends and family.
Light, slim and beautiful.
The Samsung Galaxy Tab 2 10.1 has been designed to be easily useable by anyone of any age. This means it's super thin at 9.7mm and light at under 600g, even with a glorious full size 10.1" touchscreen.
Super powerful performance.
You'll be able to do whatever you want with the speed of the Tab 2 10.1. A dual core processor means you can carry out advanced tasks, such as streaming HD videos smoothly whenever you want, or editing videos.
What else can you do with this speed? The Google Play Store has over 450,000 apps, videos books and games. A dual core processor is great for running hi-powered games, but also means you can run lots of apps at once, or stream music and surf the net at the same time. The S Suggest app gives you access to even more content, giving you apps and games designed just for your tablet.
A screen for everything.
At 10.1", the screen of the Samsung Galaxy Tab 2 10.1 is perfect no matter what you want to use it for. Like your photos? It's super crisp and full of colour. Videos? The size means it's great to stand on a table and watch with the family on the sofa. More of an internet junkie? You can surf as if on a desktop computer, but with all the practicality of swiping the screen with your finger to navigate.
Share your content with the whole family.
Anything on your Tab 2 10.1 can be streamed wirelessly to your DLNA compatible TVs, computers or smartphones. You can transfer data too, so if you want a movie stored on your PC for a flight, just connect and transfer before you set off. Or, using cloud media storage; as long as you've got an internet connection you'll have access to anything you've saved in the cloud.
Android 4.0 Ice Cream Sandwich.
The awesome Ice Cream Sandwich software that powers the Samsung Galaxy Tab 10.1 is not only smooth, fast and beautiful it also lets you easily control and personalise almost every aspect of your tablet. Need more? It's full of great features, like a super accurate keyboard with better autocorrect, voice recognition, and a wicked new browser. You'll also be able to get hold of the latest and best apps.
If you're looking for a powerful full sized tablet that's still portable and gives you a fantastic apps experience and is ideal for multimedia content, the Samsung Galaxy Tab 2 10.1 is perfect.
| | | | | |
| --- | --- | --- | --- | --- |
| SanDisk® 8GB Ultra microSDHC™ memory card | SanDisk microSDHC™ 4GB card | Port Phoenix II Universal 10" tablet case - Purple | Samsung Galaxy Note 10.1 & Tab 2 10.1 screen protector | |
Your device, in safe hands
Geek Squad technology insurance includes the tools you need to make the most of your device. We can support and fix your smartphone, tablet or computer. If it ever breaks, we'll be here to help 24/7. No claim too complex, no job too small.
Our best plan for your device:
| | | |
| --- | --- | --- |
| | + | |
Samsung Galaxy Tab 2 10.1 Wi-Fi 16GB

with Geek Squad Tablet On The Go
Insurance & Tech Support

( FREE )

Full terms & conditions here
Pay as you go customers
Cover for accidental damage and theft
Cover for liquid damage
24/7 phone Tech Support from our Agents
In-store Tech Support from our Agents to help you make the most of your device
Cover for up to £300 of Carphone Warehouse phone accessories
Next working day phone replacement on claim acceptance
Insurance underwritten by Aviva
Security software for your smartphone.
Find out more about Geek Squad Mobile Insurance
You are able to upgrade your Tech Support cover to include all devices in your household for a small additional monthly fee.
Help choosing your tablet
Opening times:
Monday - Friday:

8am - 9 pm

Saturday:

9am - 6pm

Sunday:

11am - 5pm

Bank holidays:

10am - 5pm
Call costs
You may be charged for calling this number, depending on your call plan. Your mobile phone network or fixed line provider will have details of which numbers are free for you to call. Call us on 0870 087 0870 Monday - Sunday. Costs of calls from networks may vary and calls from mobiles may cost significantly more.
What our customers say