Samsung E1200
Samsung E1200
The Samsung E1200 is an easy to use phone designed for people who want a simple mobile phone experience. With a large keypad for easy dialling and texting, and a mobile tracker, it is super-practical.
The essential tech specs.
The 800MHz battery in the Samsung E1200 can last up to 720 hours when the phone's on standby, or up to 7 hours when you're making phone calls. There's a tough 1.52" screen with a 128x128 resolution, meaning you get a clear pixel density of 119 pixels per inch.
Large keypad for ease of use.
The large keypad on the Samsung E1200 is a great alternative to more complex keyboards. Laid out in an ergonomic way so the keys are easy to reach with your thumbs, you'll find it comfortable and fast to fire off those texts.
SOS message feature for safety.
If you get in some trouble and need help, the SOS feature of the Samsung E1200 lets you send a message to pre-programmed contacts at the press of a button.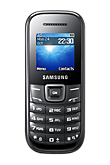 Battery life and operating system
Body and screen
Call
Camera
Connectivity
Music and entertainment
Processor and memory
*Subject to fair use policy.
Charges outside of your allowance
Usage rates
Any

O2 Tracks: The Official Top 40 now playing everywhere. O2 Tracks puts the latest hits on your phone. No streaming. Whatever your network. Text TRACKS to 61202

O2 Priority Moments: exclusive offers and experiences nationwide

O2 Rewards: up to 10% of your top-ups back every 3 months

O2 International: Top up £10 - £14 for 50MB data included per month or £15+ for 100MB data per month.

UK picture message (MMS)
25 p each
Anytime to landlines
25 p per min
Call anytime Same network
25 p per min
Call Anytime any network
35 p per min
International Calls
25 p per min
SMS Anytime any network
12 p per message
Voicemail
15 p per min
*Subject to fair use policy.
At Geek Squad, we love technology and now it's such an important part of everyday life, there's nothing we like more than being on hand to help sort out any tricky techy questions. We want to help you get the most from your mobile phone with round-the-clock technology support as well as insurance to cover you and your mobile phone against the unexpected.