Nokia 105
Nokia 105
Perfect if you don't want to have to charge your phone every day, the Nokia 105 has been designed to keep going as long as you do. Its efficient battery and robust design mean it can take on the toughest tests life can throw at it.
The essential tech specs.
The Nokia 105 has an 800mAh battery that can last up to 35 days on standby, or for 12 hours 30 minutes when you're making phone calls. It has a 1.45" screen with a resolution of 128x128, meaning it has a pixel density of 125 pixels per inch. You'll also get enough memory to store up to 500 contacts.
Tough and trendy.
With a dust and splash proof keypad and durable body, the Nokia 105 is an extremely tough phone. It also has a colour screen and comes in either black or cyan so it looks good too.
Music on the move.
The FM radio on the Nokia 105 means you can tune in to your favourite stations wherever you are. Just plug in a headset and listen to the latest tracks while on the move.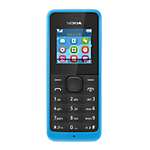 Battery life and operating system
Body and screen
Call
Camera
Connectivity
General
In the box
Music and entertainment
Processor and memory
Value Messaging
At Geek Squad, we love technology and now it's such an important part of everyday life, there's nothing we like more than being on hand to help sort out any tricky techy questions. We want to help you get the most from your mobile phone with round-the-clock technology support as well as insurance to cover you and your mobile phone against the unexpected.