Samsung E1200
The Samsung E1200 is a cute phone that'll see you through the day texting and calling. Have a busy schedule? The super built-in organiser will keep you in the right place at the right time.
Ultra light and portable.
Small pockets and bags? Then the Samsung E1200 has the ideal design. Small and light, it'll fit in the smallest spaces and won't add any noticeable weight. Smooth, grippy and comfortable to hold it's a texting machine, and has great sound quality for calls too.
Large keypad for ease of use.
The large keypad on the Samsung E1200 is a great alternative to more complex keyboards. Laid out in an ergonomic way so the keys are easy to reach with your thumbs, you'll find it confortable and fast to fire off those texts.
A battery that goes on and on.
Don't want your phone to run out of puff after a day and half? The Samsung E1200 is super efficient, so you'll be able to talk for almost 10 hours, and will get up to 800 hours of standby time.
Organise yourself.
The built-in organiser of your Samsung E1200 is extensive, allowing you to ensure you have all your appointments noted down. With alarms and categories, you know exactly what you've got going on, and be reminded in good time too.
All the little extras.
To keep the Samsung E1200 as practical as possible, there are loads of built-in apps. There's an alarm to wake you up, a handy stopwatch and timer for everything from cooking to sports day, T9 predictive messaging for fast and accurate texting and a memo for jotting down important notes.
SOS message feature for safety.
If you get in some trouble and need help, the SOS feature of the Samsung E1200 lets you send a message to pre-programmed contacts at the press of a button.
If you're looking for a well-made phone that's super reliable and easy to use, the Samsung E1200 is a great little phone.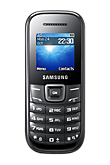 Business
Connectivity
General
In the box
Multimedia
Specifications
*Subject to fair use policy.
The usage rates above are indicative. Due to the VAT increase to 20% on the 4th January 2011, many charges are now fractions of pence.
Charges outside of your allowance
Usage rates
Daytime
Anytime
Eve/Weekend

O2 Tracks: The Official Top 40 now playing everywhere. O2 Tracks puts the latest hits on your phone. No streaming. Whatever your network. Text TRACKS to 61202

O2 Priority Moments: exclusive offers and experiences nationwide

O2 Rewards: up to 10% of your top-ups back every 3 months

O2 International: Top up £10 - £14 for 50MB data included per month or £15+ for 100MB data per month.

MMS Picture
25 p each
25 p each
Anytime to landlines
25 p per min
Call anytime Same network
25 p per min
Call Anytime any network
35 p per min
International Calls
25 p per min
SMS Anytime any network
12 p each
Voicemail (same network)
15 p per min
*Subject to fair use policy.
The usage rates above are indicative. Due to the VAT increase to 20% on the 4th January 2011, many charges are now fractions of pence.
test At Geek Squad, we love technology and now it's such an important part of everyday life, there's nothing we like more than being on hand to help sort out any tricky techy questions. We want to help you get the most from your mobile phone with round-the-clock technology support as well as insurance to cover you and your mobile phone against the unexpected.
CHOOSE THE RIGHT PLAN FOR YOU
| | | |
| --- | --- | --- |
| | + | |
Samsung E1200

with Geek Squad Mobile - Insurance & Tech Support

£9.99(Annual payment)

Full terms & conditions here
Insurance against:
Theft
Loss
Accidental damage
Breakdown
24/7 telephone tech support
Accessories cover
Smartphone security
Worldwide cover