LG Optimus L3
The LG Optimus L3 has a slick design that's compact too. Powered by a zippy processor and Android means you can get all the latest apps from Google Play, and with the built-in camera, you'll capture all those great shots when you're out partying.
Compact style.
If you care about looking good, the L3 will really fit your lifestyle. The square-edged design incorporates slick metallic accents and a soft casing to look and feel good, while the compact size and slim profile is the ideal fit for your palm or clutch bag.
Wonderful views.
Whatever angle you look at it from, the 3.2" display is smooth and crisp and gives great readability for text. And when you're out on the move, it's outstanding in daylight too.
Powerful technology.
The enhanced 3MP camera has a variety of scenes and effects to help you get the best out of your photos. And seamless sharing via social networks make it simple to capture and share your precious moments. There's also built-in GPS for finding the latest bar you're meeting your friends at, and Bluetooth for connecting hands free kits so you can chat to your family while on the road.
Jump on the net.
Whether you want to catch up with the news, keep track of your emails or do some web surfing, the LG Optimus L3 is a great little smartphone. There's built-in Wi-Fi for when you're at home, and when you're out and about there's fast wireless internet. Need to get your laptop online? Well the L3 has a Wi-Fi hotspot feature, so you can share its internet connection with laptops, tablets and other devices.
Keep going all day.
The 3.2" touchscreen is much more energy efficient than huge displays, and combined with a sizeable 1,540mAh battery, you'll have power all day whatever you're doing.
Your music playmate.
If you're a music fan, the L3 could be your best friend. There's an FM radio for when you want to hear the latest tracks and news, and an MP3 player for your own favourite tunes. Don't worry if you've got a huge collection, the L3 has microSD card support up to 32GB to give you plenty of space for music as well as photos.
Qualcomm® Snapdragon™ processors
At the heart of the devices you love, Snapdragon processors are designed using best in-class technology. The result is a single chip that contains everything your smartphone needs including CPU, graphics processing unit (GPU), internet connectivity software, power management and multimedia features. The unique all in one technology helps maximise performance without wasting battery power. Learn more about Snapdragon.
If you're after a sleek and fashionable phone that's got a great touchscreen, camera and a music player, the LG Optimus L3 should be on your short list.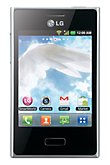 Business
Connectivity
General
In the box
Multimedia
Specifications
*Subject to fair use policy.
The usage rates above are indicative. Due to the VAT increase to 20% on the 4th January 2011, many charges are now fractions of pence.
Charges outside of your allowance
Usage rates
Daytime
Anytime
Eve/Weekend

O2 Tracks: The Official Top 40 now playing everywhere. O2 Tracks puts the latest hits on your phone. No streaming. Whatever your network. Text TRACKS to 61202

O2 Priority Moments: exclusive offers and experiences nationwide

O2 Rewards: up to 10% of your top-ups back every 3 months

O2 International: Top up £10 - £14 for 50MB data included per month or £15+ for 100MB data per month.

MMS Picture
25 p each
25 p each
Anytime to landlines
25 p per min
Call anytime Same network
25 p per min
Call Anytime any network
35 p per min
International Calls
25 p per min
SMS Anytime any network
12 p each
Voicemail (same network)
15 p per min
*Subject to fair use policy.
The usage rates above are indicative. Due to the VAT increase to 20% on the 4th January 2011, many charges are now fractions of pence.
test At Geek Squad, we love technology and now it's such an important part of everyday life, there's nothing we like more than being on hand to help sort out any tricky techy questions. We want to help you get the most from your mobile phone with round-the-clock technology support as well as insurance to cover you and your mobile phone against the unexpected.
CHOOSE THE RIGHT PLAN FOR YOU
| | | |
| --- | --- | --- |
| | + | |
LG Optimus L3

with Geek Squad Mobile - Insurance & Tech Support

£14.99(Annual payment)

Full terms & conditions here
Insurance against:
Theft
Loss
Accidental damage
Breakdown
24/7 telephone tech support
Accessories cover
Smartphone security
Worldwide cover