HTC Desire C
The HTC Desire C is a great little smartphone that packs a bigger punch than you'd think. It makes a great music player with Beats Audio™ built-in, is perfect for email and web browsing on the move with fast HSPA mobile internet, and it'll fit in your back pocket too.
Beautifully portable.
Light, small, but still including a decent-sized 3.5" screen with vivid colours, the HTC Desire C non-NFC is portability and practicality rolled into one. You can check your emails, post on Facebook™, send some WhatsApps to organise your evening, and just throw it into a clutch bag or pocket, no matter how small. It's the same as the standard Desire C with looks, software and hardware, it just lacks NFC (Near Field Communications) capabilities.
Built-in Beats Audio™ for killer sounds.
If you're into your sounds, then Beats Audio™ is a technology you're going to love. It supercharges your audio, giving you crisper and thicker sounds that are more true to how the music was originally recorded. And now it works with all the audio you play through the included stereo headphones, from your own MP3s and videos, to YouTube and streamed movies.
Android 4.0 Ice Cream Sandwich.
That's right, your HTC Desire C comes with the latest version of Android. This makes it slicker and boosts battery life. And that's not all - there are brand new features too. There's a more accurate keyboard with smarter word recognition, and data usage charts to keep track of your 3G data. You'll also have access to the latest and best apps in the Google Play Store, and with HTC Sense you'll also get exclusive HTC-only apps.
Packing a snazzy little camera.
Never again will you miss those once in a lifetime shots. The HTC Desire C 5MP camera fires up almost instantly, and gives you great photos. On screen buttons make it fast and easy to take a photo or video, and there are advanced features like zoom and geo-tag, preset effects, and a cool photo editor that lets you adjust things like exposure, contrast, saturation and sharpness.
Tons of storage.
If you hate deleting things then the storage of the Desire C will be a real plus. 4GB of built-in storage can easily be extended with microSD cards up to 32GB. Not enough? Well there's 25GB of Dropbox cloud storage too, free for 2 years. Dropbox also makes it easy to share content from other devices such as tablets and computers.
A strong battery to power through your socialising.
With the latest software, advances in processor and screen technology and large battery, the Desire C gives a great batter life. Combined with fast mobile internet you can get online wherever and whenever you want without worrying about running out of juice to download apps, upload photos on Facebook™ and post on Twitter™.
Qualcomm® Snapdragon™ processors
At the heart of the devices you love, Snapdragon processors are designed using best in-class technology. The result is a single chip that contains everything your smartphone needs including CPU, graphics processing unit (GPU), internet connectivity software, power management and multimedia features. The unique all in one technology helps maximise performance without wasting battery power. Learn more about Snapdragon.
After a very portable smartphone that packs the latest apps, great music software and is great for social networking? Then grab the HTC Desire C.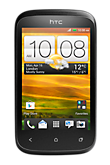 Business
Connectivity
General
In the box
Multimedia
Music
Navigation
Specifications
*Subject to fair use policy.
The usage rates above are indicative. Due to the VAT increase to 20% on the 4th January 2011, many charges are now fractions of pence.
Charges outside of your allowance
Usage rates
Eve/Weekend
Anytime
Daytime

To choose a tariff call 789 for free from your Virgin mobile and choose option 3:

when you top up £10:

Big Talk: Unlimited landline and 120 virgin to virgin minutes
Big Data and Texts: Unlimited internet and 300 Texts

When you top-up £15-30:

Big Talk: Unlimited landline calls, 120 cross-network mobile calls and unlimited texts

Big Data and Texts: Unlimited internet and texts

50p per day for additional 25MB
MMS Picture
31 p each
31 p each
SMS Anytime any network
12 p each
Call Anytime any network
26 p per min
*Subject to fair use policy.
The usage rates above are indicative. Due to the VAT increase to 20% on the 4th January 2011, many charges are now fractions of pence.
test At Geek Squad, we love technology and now it's such an important part of everyday life, there's nothing we like more than being on hand to help sort out any tricky techy questions. We want to help you get the most from your mobile phone with round-the-clock technology support as well as insurance to cover you and your mobile phone against the unexpected.
CHOOSE THE RIGHT PLAN FOR YOU
| | | |
| --- | --- | --- |
| | + | |
HTC Desire C

with Geek Squad Mobile - Insurance & Tech Support

£21.99(Annual payment)

Full terms & conditions here
Insurance against:
Theft
Loss
Accidental damage
Breakdown
24/7 telephone tech support
Accessories cover
Smartphone security
Worldwide cover