Alcatel OT 10.10
Actatel OT 10.10
The Alcatel One Touch 10.10 is a bold and lightweight phone, designed to make things simple. With large buttons to make texting easier, call filtering to stop unwanted calls and an FM radio for music and news on the move, the Alcatel One Touch 10.10 is perfect if you want to simplify things.
The essential tech specs.
The 400mAh battery in the Alcatel One Touch 10.10 will last up to 333 hours on standby or up to 7 hours when making phone calls. The phone has a 1.45" screen with a 128x128 resolution that gives a pixel density of 125 pixels per inch. There's also enough memory to store up to 100 contacts.
Don't be disturbed.
With call filtering on the Alcatel One Touch 10.10 you can be sure you won't be bothered by unwanted calls. Set a black list of up to 50 numbers and when you turn it on they won't be able to contact you. Or activate a white list and those numbers will be the only ones who can connect with you, perfect for dodging marketing calls.
Built-in FM radio.
The integrated radio on the Alcatel One Touch 10.10 means you'll be able to listen to the latest music, keep up to date with traffic reports and find out the news on the move.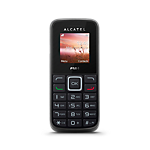 Battery life and operating system
Body and screen
Call
Camera
Connectivity
Music and entertainment
Processor and memory
*Subject to fair use policy.
Charges outside of your allowance
Usage rates
Any

O2 Tracks: The Official Top 40 now playing everywhere. O2 Tracks puts the latest hits on your phone. No streaming. Whatever your network. Text TRACKS to 61202

O2 Priority Moments: exclusive offers and experiences nationwide

O2 Rewards: up to 10% of your top-ups back every 3 months

O2 International: Top up £10 - £14 for 50MB data included per month or £15+ for 100MB data per month.

UK picture message (MMS)
25 p each
Anytime to landlines
25 p per min
Call anytime Same network
25 p per min
Call Anytime any network
35 p per min
SMS Anytime any network
12 p per message
International Calls
25 p per min
Voicemail
15 p per min
*Subject to fair use policy.
At Geek Squad, we love technology and now it's such an important part of everyday life, there's nothing we like more than being on hand to help sort out any tricky techy questions. We want to help you get the most from your mobile phone with round-the-clock technology support as well as insurance to cover you and your mobile phone against the unexpected.
Why buy from us
Live Tariff Checker

Find out more
Compare and save upgrade promise
Find out more
Free next day delivery
Find out more
Getting your tech workingFind out more
Trade Up when you Trade In
Find out more
Upgrade Reminder Service
Find out more